Angelababy Plastic Surgery Before and After
Plastic surgery is not only popular among Hollywood celebrity, but it's also favored by Chinese celebrity. Angelababy, whose real name is Angela Yeung, a model, actress, and singer of Hong-Kong, is rumored to have undergone plastic surgery. From her photos, people can see how Angelababy has changed into a different person. Her look is different from the former Angelababy 7 years ago.
This 24 year old actress is rumored has had a nose job, double eyelid surgery, chin surgery, and filler on her cheeks to improve her look. The proof can be seen from her photos that widely spread. She used to have smaller eyes and the recent eyes look slightly bigger; so many people speculated that she has had double eyelid surgery.
In addition to having double eyelid surgery, she was also suspected to have had a nose job. If we are comparing her old photos and the most recent one, it does appear that her nose bridge rise. Moreover, in some photos we can see that her jaw appears slimmer and her chin looks slightly change. It indicates that she has possible had chin implants.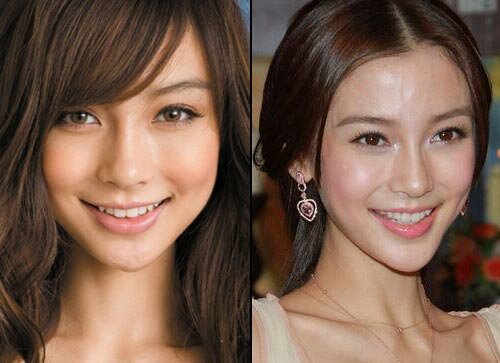 Angelababy is really upset for the plastic surgery rumor that is addressed to her. She insisted saying that her appearance is 100% natural. According to her, she got her look due to the corrective braces and maturation. She even visited a plastic surgeon in Oct, 7 2010 to ensure the public that she didn't have any plastic surgery procedure.
Ray Chen, a celebrity makeup artist says that when a celebrity gets her raised nose, she will say that it's the result of smart makeup. Actually, what's a matter with telling the truth? It's hardly believed that cosmetic can transform the nose higher, even with the "smart" one.