Alyson Hannigan Boob Job (Breast Implants) Before & After
Alyson Hannigan rose to fame when she landed a coveted role in Buffy the Vampire Slayer, as Willow Rosenberg. These days, she is popularly known as Lily Eriksen (nee Aldrin) on the recently concluded hit show How I Met Your Mother. While she is not as controversial as other Hollywood actresses, she has her share of experience with intrigue, not the least of which are rumors about Alyson Hannigan boob job. Since her roles have always been wholesome, if not demure (save for her stint on the American Pie movie franchise), it seems inconceivable that she would even consider such a cosmetic procedure. Nevertheless, the gossip spread and became a heated topic among fans.
So did Alyson really get her breasts done? Some recent photos of her suggest that her bosom increased in size drastically although some attributed this to her recent pregnancy (she had two children, one in 2009 and 2012) and the subsequent weight gain. However, many are convinced that she had her breasts augmented (and lifted) after giving birth to her second child.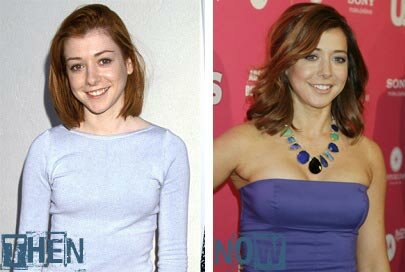 Hannigan is not one to indulge rumors and she has not given any interviews of late, or at least none that lead to her being questioned about the alleged breast augmentation surgery. It would not be surprising if she did have something done since she is at the age (39) where women usually go for a bit of nip and tuck.
Regardless of whether the rumors are true or not, Hannigan remains one of the most charming female TV personalities and if nothing else, her sense of humor would certainly get her through the craziness that is Hollywood fame. Now that How I Met Your Mother is done, her fans would no doubt eagerly await her new project whether on the big screen or TV.