Chelsea Clinton Plastic Surgery Before & After Pictures
Chelsea Clinton has been in the public eye for many years now due to her father's presidency. It's unfortunate that she's had to be subject to such scrutiny for so long, but, it is the way things are — and, with the way things are, people simply can't help but comment on the transformation that's taken place in her looks over the years. A number of experts have offered comment on what procedures they think Chelsea Clinton has undergone, and, here, we'll take a look at what they've had to say.
The first things people noted about Chelsea Clinton's cosmetic transformation were those which did not need surgical intervention: She straightened her hair, straightened and whitened her teeth, and started taking better care of her skin as she came more into the public eye. Some noticed that her chin looked different, however, and a few plastic surgeons — amongst them, Dr Walden, a Manhattan based medical doctor — mentioned that she very well may have undergone a jaw augmentation at some point or another. Of course, this is just speculation, as Dr. Walden did not treat Miss Clinton, and the latter has never made any public comments on the matter herself.
The majority of Chelsea Clinton's transformation can be attributed to her having followed a mostly vegetarian diet and strict exercise plan for many years. She is slimmer and better toned these days, especially as compared to her teenage years, and this is entirely the work of her will and hard work. There have been some rumors as to whether or not she is a vegan, which she has publicly denied in an interview she gave in 2010:
"I was never a vegan. I gave up  meat at age 13. When I was 29, I woke up one day and craved it. My husband, an inveterate carnivore, was thrilled."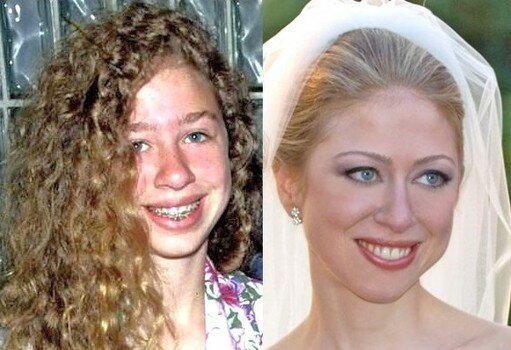 Another Chelsea Clinton plastic surgery rumor  is that she has received a rhinoplasty — a nose job — but all of the cosmetic surgeons consulted on the issue deny that this is possible. "Obviously we can't say for sure," said Dr DeCena, a surgeon in Long Island City, Queens, NY, who has not treated Miss Clinton, "but given the pictures of her in her youth as compared to those we have of her today — I just can't see it. I think it's ridiculous to say she's undergone a rhinoplasty when the only changes in her face seem to be clearer skin and whiter teeth, neither of which fall within the domain of the cosmetic surgeon."
It's possible that Chelsea Clinton has had a botox injection or two — her face looks very, very smooth — but, then again, it is also possible that she has simply taken care of her skin. The fact of this ambiguity shows that, if she has undergone these operations, her surgeon is certainly very skilled, and she definitely looks better for it.
You May Also Like